Well, it's nearing my Tricennial, my Pearl Anniversary, in four years, on the same day as Britney Spears, Lucy Liu, Nelly Furtado, Teairra Marie, and, my favorite Sagittarius, from
HBO's Cathouse
,
Isabella Soprano
(just some gift ideas), I will be turning 30. One of my best friends reminded me of this the other day (thanks, you fucking downer). You know how somebody tells you that a deadline is imminent, and your mind starts processing a whole bunch of shit it wasn't ready to? Yeah, I had that moment. I started thinking about careers, houses, cars, children, and other adult things (you thought I was going to say marriage, right? Do I look like a chick, huh?). I guess that 30 would be too early to have a midlife crisis, so I guess I'll just have an early life crisis. You know the questions that run through your head. Have I wasted 30 years of my life? Have I accomplished any of the goals I set (I never set any, so I'm cool)? Am I ready to grow up? What am I going to do with the rest of my life? And just like you, I have no answers (unlike you, I don't care).
So, I'm sitting here, guzzling a Heineken, thinking about the questions I will ultimately have to answer. You remember when you were a child, you looked at adults and thought that they were having fun being grown ups. They didn't have homework, they did whatever they wanted, they didn't have all the stupid rules that you had, and they didn't have to answer to stupid grown ups. And what did you realize when you became an adult? That was all bullshit! You started working and realized that this is a lot like school, which sucked. Yeah, you get paid, but you have to pay bills now. You can't just do whatever you want, you have responsibilities now. At least you don't have the stupid rules, right? Wrong, you have more rules, and these rules have worst consequences. Remember when you got into a fight and your punishment was a time-out (ass-whipping in my case), well now if you get into a fight, you punishment is jail. Oh, and the not answering to stupid grown ups, what about that? If you're at work, look over at your supervisor, he's definitely a grown up and most likely a stupid one. If you're at home or at Starbucks, open another window and go to
http://www.whitehouse.org/
, that has got to be the stupidest grown up around. So, is being an adult as cool as it looked like when you were a child?
To answer all those question that went through my mind, I have no answers! I don't know where I'm going, I don't know what I'm doing, I don't know where I'll be, I'm just hoping for the best. I was reading my
brother's blog
, and I got to
an entry
, and it made me think. Hey, if my brother is Earl Hickey, I must be Randy Hickey. Maybe I do need to reevaluate my life. Pretty soon I'll be in a hotel room with my brother, riding around in my crappy car, getting into wacky shenanigans. Hey, that doesn't sound too bad at all!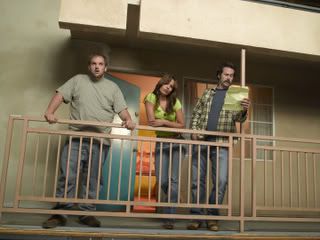 My brother and I. Oh, and a hot Latina that I'm married to. Cool
Remember the world is Diggie. Even the "Butterfly" told you this was a Diggie-ble Planet.
I'm cool like that!