So, yet again, I was checking out
my twin's blog
, and I got to
this entry
, I was also vibing to A Tribe Called Quest at the time (if you don't like the Native Tongues, you should commit
seppuku
). The combination of that chart and the congenial composition that is "
Find A Way
" had me contemplating the complexities of compatibility (check the alliteration, genius). I'm not that good at relationships, friendships, companionships, spaceships, worship, warships, Battleship (I'm always getting sunk), and most other ships. Some question that I've often asked myself. What makes a good friendship? What makes a good relationship? Are we with people just because we're lonely and we need somebody to make us feel needed? And the main topic of this entry, where is the line between a friendship and a relationship? I don't know the answers to these questions, so I decided to do some scientific research (not really, just listening to a bunch of crappy R&B songs).
I don't want to come of as some soft, sensitive dude, so I'm going to inject some assholish, jerky comment here.
"If we hear from an old girlfriend, we will briefly fantasize about having sex with her. But do not worry; the fantasy includes you AND her, together."
Okay, now that that's out of the way, back to the blog entry. How do you know if you're ready to move out of the friendship zone (isn't that the point of having a female friend, an insurance policy)? How do you get pass the awkwardness of a F-buddy that wants to be more? When is it right to move on to the next step in a relationship (whatever that means)? I understand that as you get older, the dynamics of relationships are supposed to change. As you mature, you're supposed to handle situations differently. Well, since I became an adult (like five minutes ago, when I started writing this crappy ass entry), I haven't been in a real relationship (whatever that is). I don't understand the dynamics of an adult relationship. I mean, the last relationship that I was in, I was like a teenage boy watching scrambled porn, just waiting for things to get clear for a minute. I look at relationships like the American stock market, why invest when you're not guaranteed a return. All my life, I suffered from kakorrhaphiophobia (look it up), so I never tried to spit at females I didn't know, so most of the girls I kicked it with were my friends (probably why I don't have any female friends now). I figured, hey, she already knows me, I don't really have to be extra. If you don't understand, "extra" is all the romantic shit you do in the beginning to get a girl. All that wining and dining, the wooing and other bullshit. I didn't realize that you had to actually put in work to jump that line from friend zone to relationship (who would've figured). So, damn near every relationship that I've been in stayed in that awkward zone.
And then there was the F-buddies (not many), which for a dude like me, was an exercise in futility. See, I used to hang out with pole-workers (not poll workers, I don't vote), and I used to pizzlate (
Pronunciation
[piz-uhl-leyt]
verb
to have sexual intercourse with) their friends. That is about the easiest thing in the world to do, you're basically getting paid off of somebody else's labor. You know how it works,
"tell your homegirl, I'm like a fishmonger"
or
"tell your friend I want to check her tonsils like an ENT Specialist"
. I'm not going to use words like smut, lay or jump-off, lets just say, these women are looking for disposable companionship. Even though I enjoyed these furloughs, it just wasn't me. I know that most dudes view a F-buddy as hitting the lottery, and not having to pay the luxury tax. I don't know, maybe I'm not a total heartless bastard, but I can't treat any relationship like a firing range, you know, go in, shoot a couple rounds, get out, and come back when my trigger finger's itching again. I know, the sensitivity again, well, time for some bastardry.
" How do most men define marriage? An expensive way to get laundry done for free."
I don't know, maybe boredom has set in because there is nothing on television. Maybe I've listen to Neyo's new album a little too much in the past few days. Maybe I watch too many romantic comedies (I can't help it, most other movies suck). Maybe I've just ran out of topics to write about (I've peaked at 26, how sad). Hey, at least I'm in a relationship that has yet to let me down; I love you, BangBros.com (no hyperlink to porn, that's just tasteless, even for me).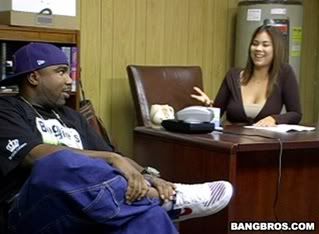 My favorite dude, on my favorite porn site. Don't worry, he's not pizzlating.
Remember the world is Diggie. Even the "Doodlebug" told you this was a Diggie-ble Planet.
I'm cool like that!